About us
Happy Fitness is a china sporting goods/fitness accessories factory
Welcome to our website ,today we introduce 6 basic and
best yoga wheels
–include how does the yoga wheels be produced by factory ? how to use a yoga wheel ? what is the weight limitation of yoga wheel as well as Do yoga wheels work for back pain?
So step by step ,firstly let us show you 6 basic style of yoga wheels :
Style 1 : TPE foam +ABS/PP tube fitness yoga wheel/tep yoga wheel/abs yoga wheel
This style of
yoga wheel
foam is TPE material which is soft + durable PP or ABS tube ,this back yoga wheel already started to sell in market years ago so many people already see it and used it ,this yoga roll wheel have 3 sizes .

We also sometimes call it yoga wheel set of 3 or yoga wheel set ,their size is 13 inch/10.5 inch/6.5 inch high and width is 5.1 inch ,we can also customize the yoga wheel and add our brand on the yoga roller wheel to make it become
custom yoga wheel
,as for package ,we can use carrybag and also box to package the yoga wheel set.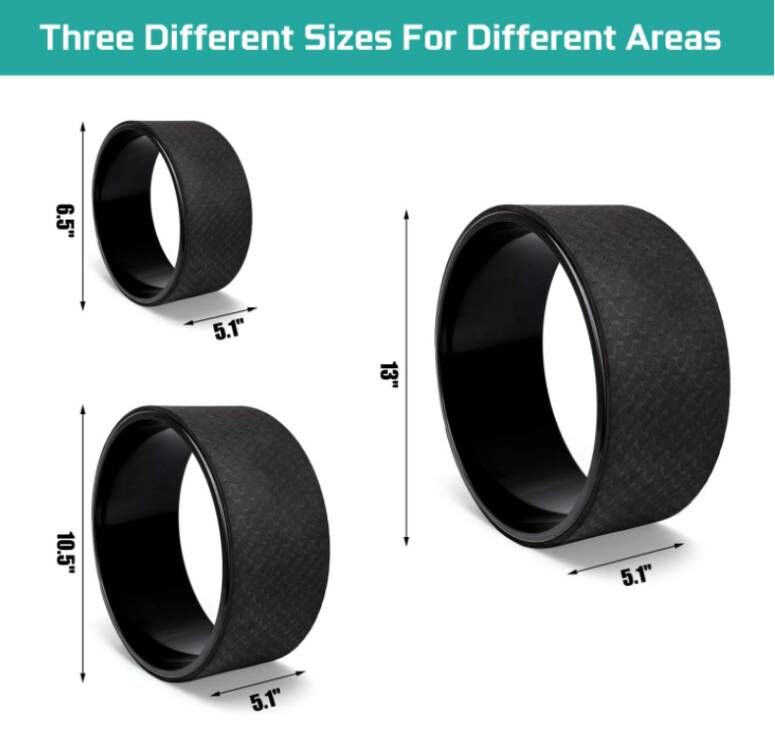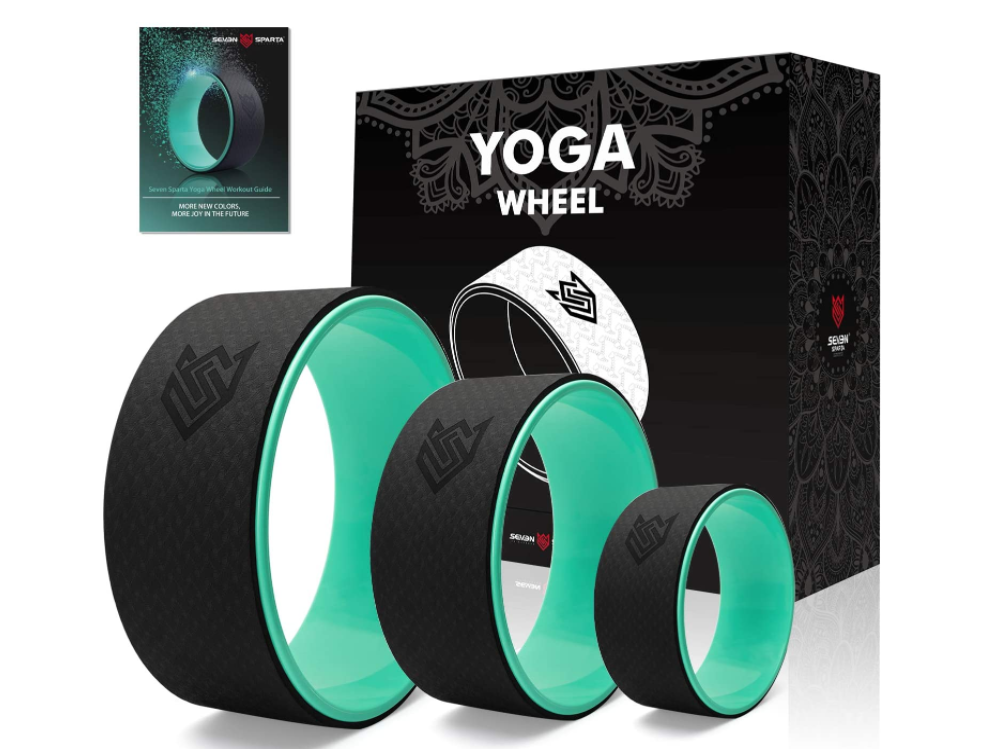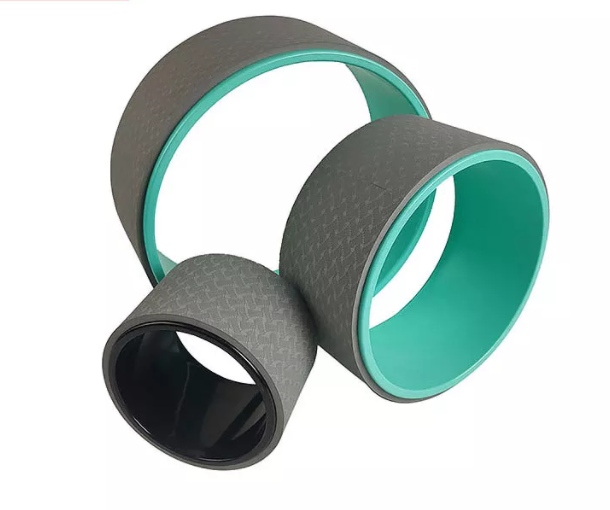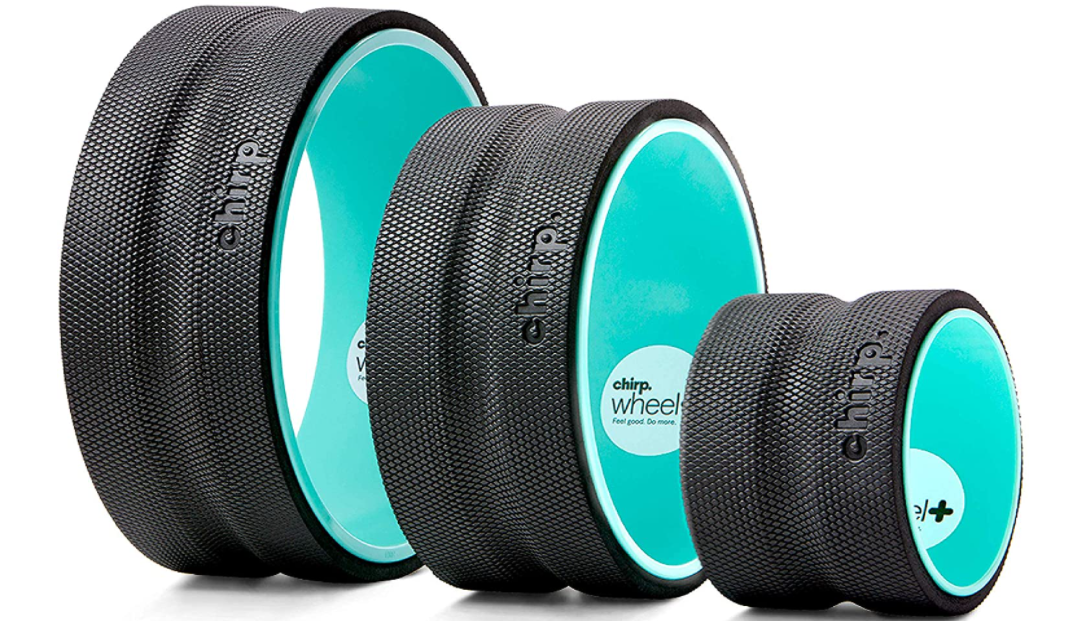 Style 2 :  half yoga wheel /fitness yoga wheel
Half gym
yoga wheel
material is same as style 1 with tpe foam +abs /pp tube ,only different is the shape ,we can see its shape is not round seems like half round ,

Half Yoga wheel allows you to open up your stretches and enhance your yoga practice in a comfortable and safe way and makes it a great accessory to add to your practice.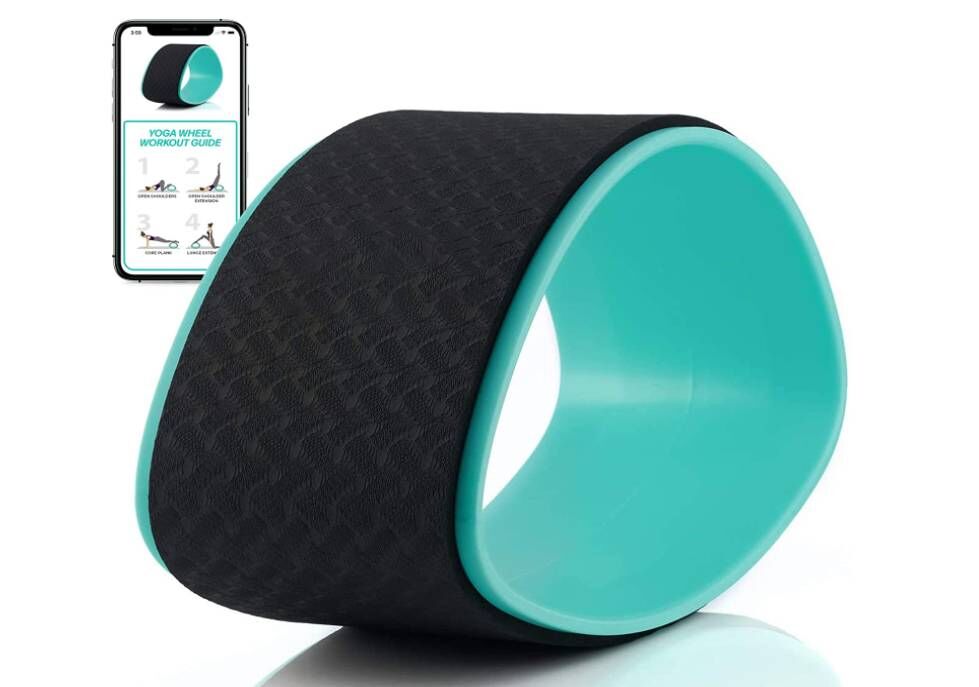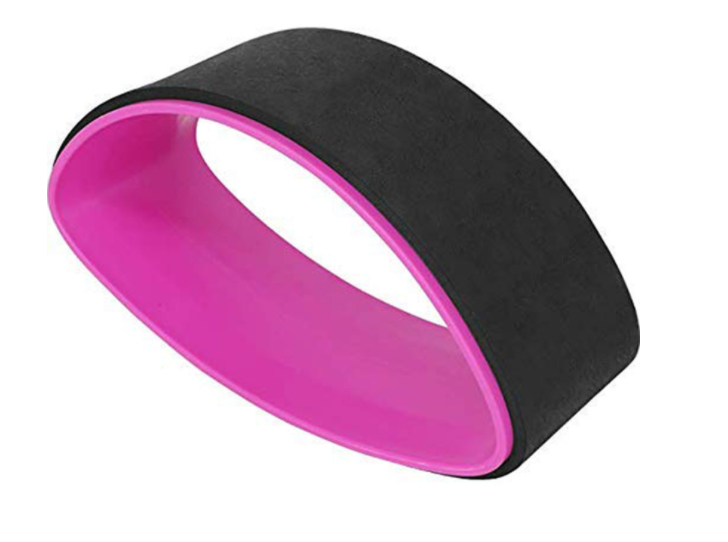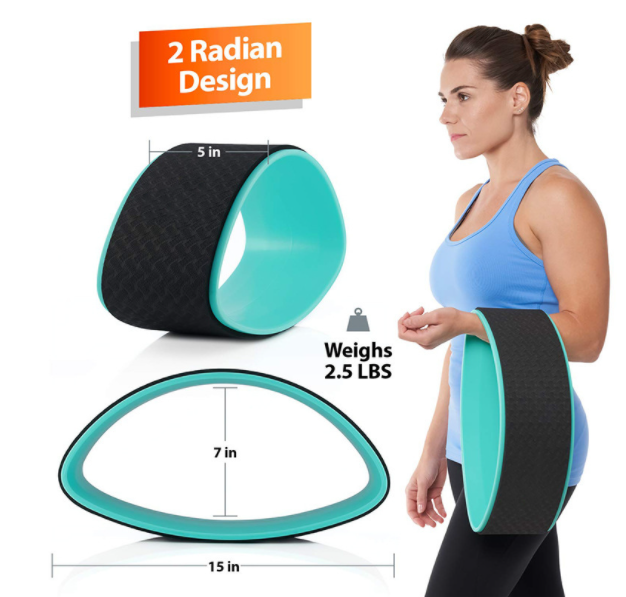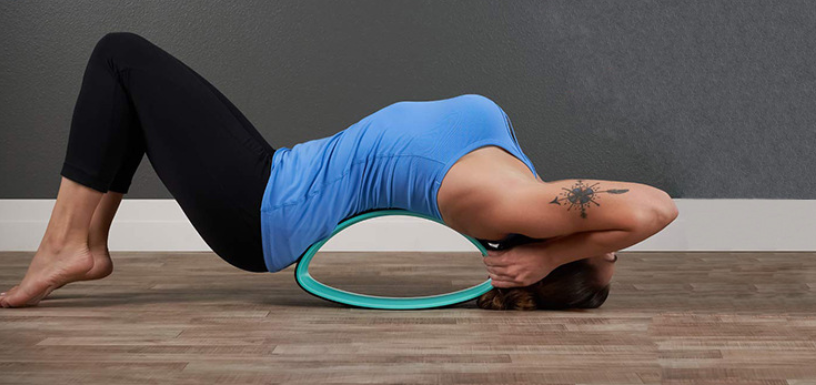 Style 3  : Customized eco yoga wheel/full printing yoga-wheel
This style yoga wheel all details same as style one eco abs yoga wheel ,only difference is it's printing ,we can see this
tpe yoga wheel
,tpe foam part is full of printing ,we can customized the printing as per customer's artwork ,so this yoga wheel is unique and special yoga back wheel .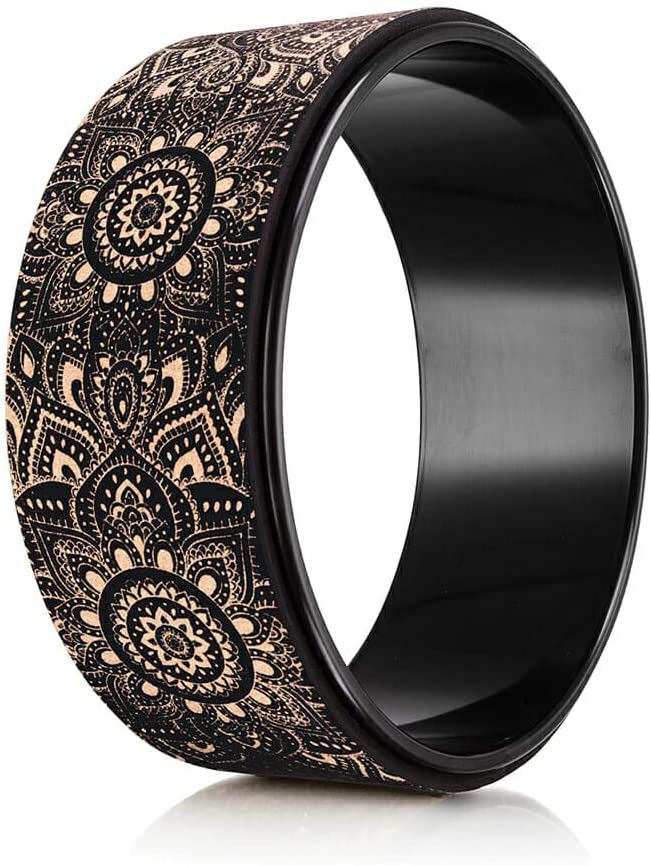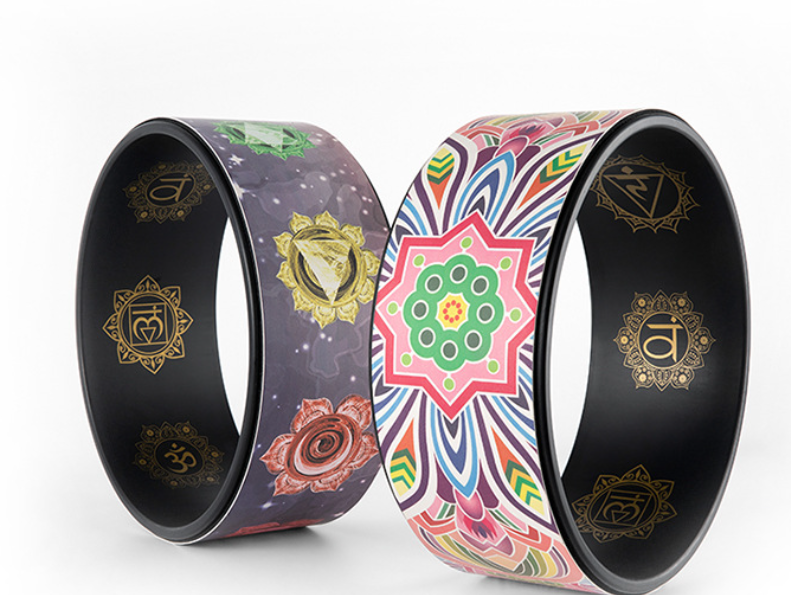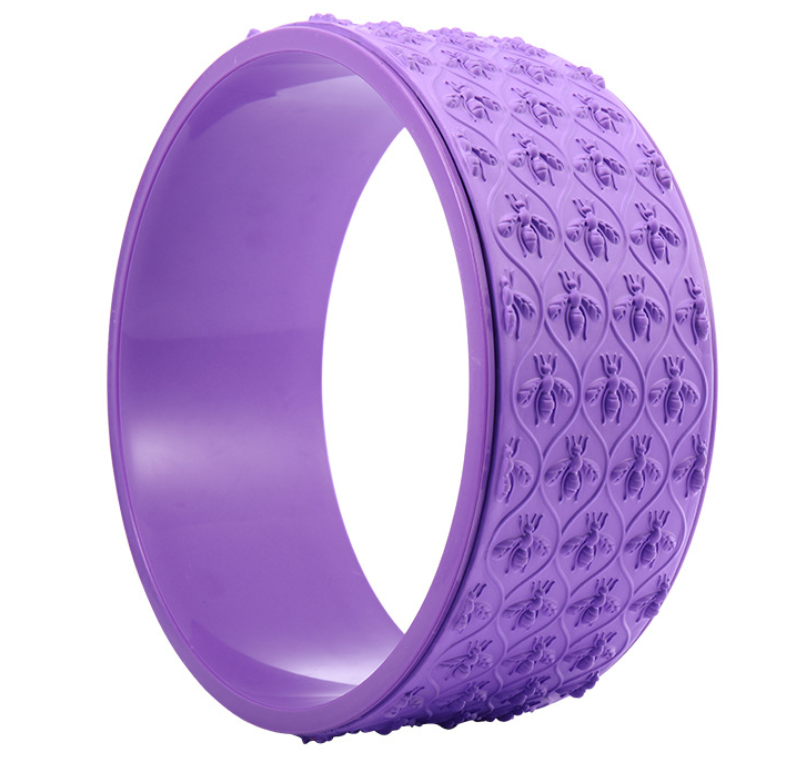 Style 4 :
cork yoga wheel /yoga wheel wood/wooden yoga wheel
We can notice from below picture ,the
yoga wheel
cover is a cork ,it is actually cork cover + tpe foam + abs/pp tube ,size is same as style 1 tpe yoga wheel
13x5 inches
,just add one cork cover to make it special ,and we can also add one wood sticker on the pp or abs tube to make the tube also cork color .

The non-slip cork layer is grip easily, comfort to roll between shoulder or feet ,and Eco Friendly, sustainable natural cork is used to craft this deluxe home yoga set ,and the cork surface can also do customized printing on the yoga wheel.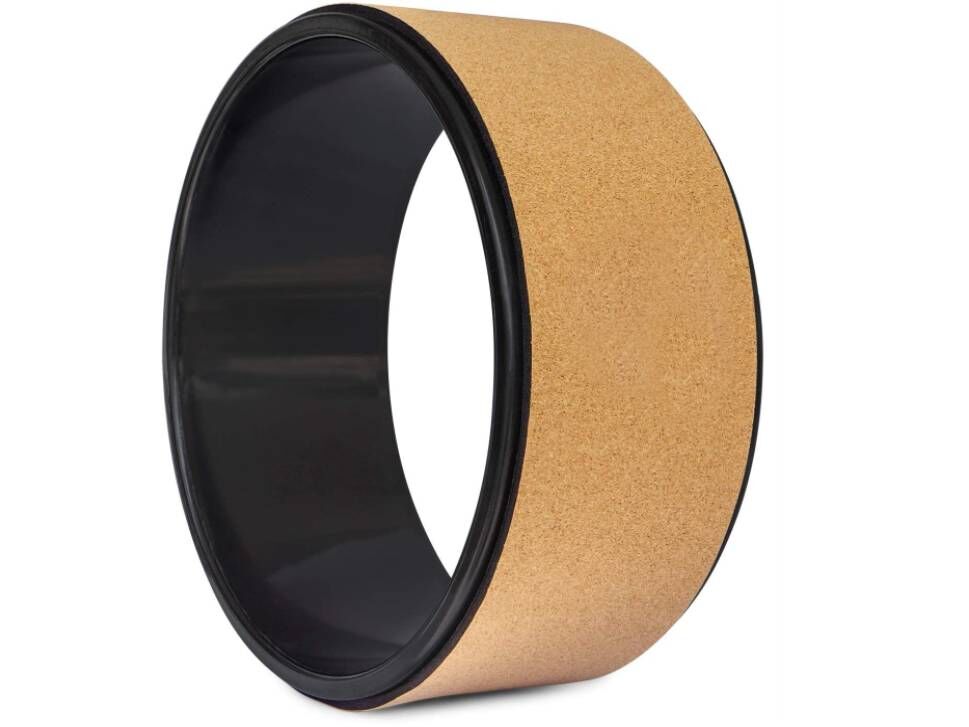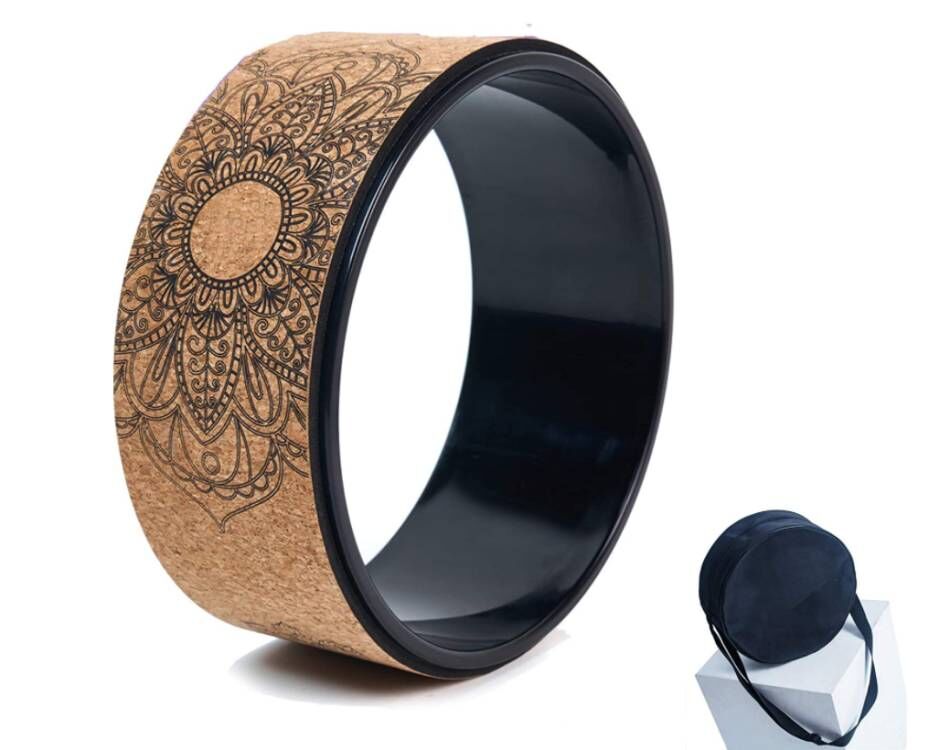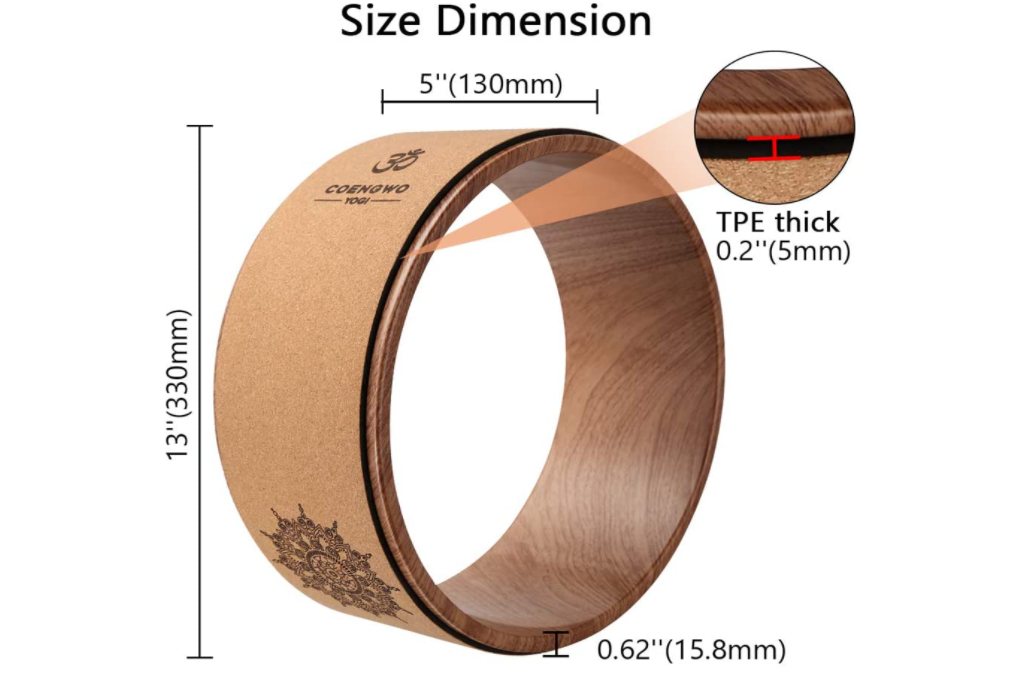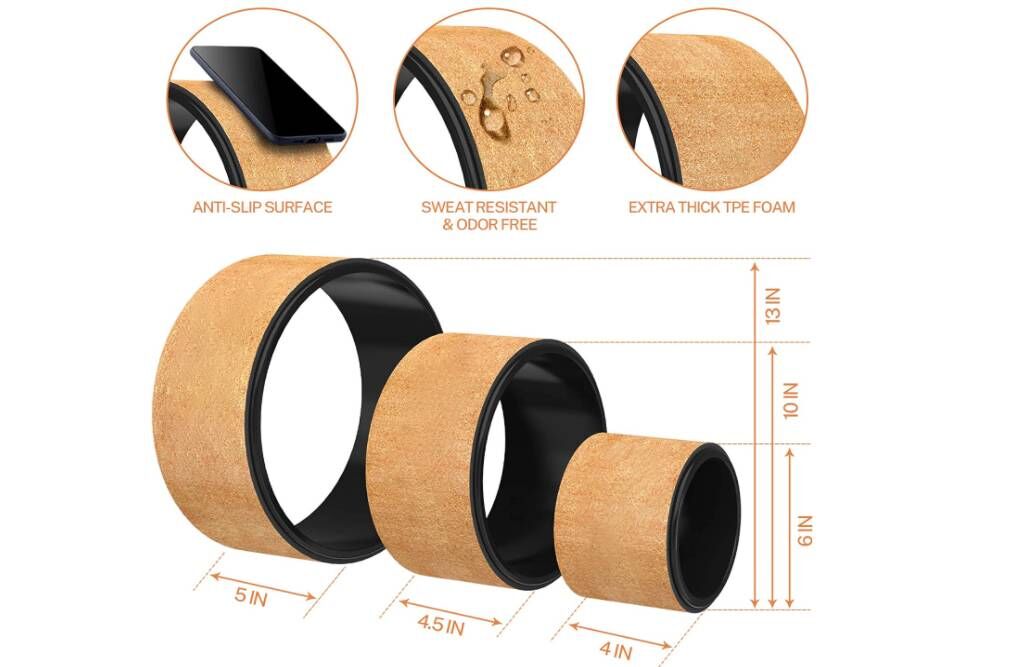 Style 5 : eva yoga wheel/ eva pilates yoga wheel
This style of yoga mat foam is not tpe but eva ,compare with
tpe foam yoga wheel
,eva yoga wheel foam is hard ,around 50 to 55 degree hard but tpe foam is only around 30 to 35 degree .

So if you prefer hard yoga wheel ,eva yoga wheel style will be better ,its tube also abs /pp tube ,so what is the difference of pp tube yoga wheel and abs tube yoga wheel ?abs is better and can bear around 1000 pounds /over 400kg weight and pp tube is less ,so abs yoga wheel will be more durable .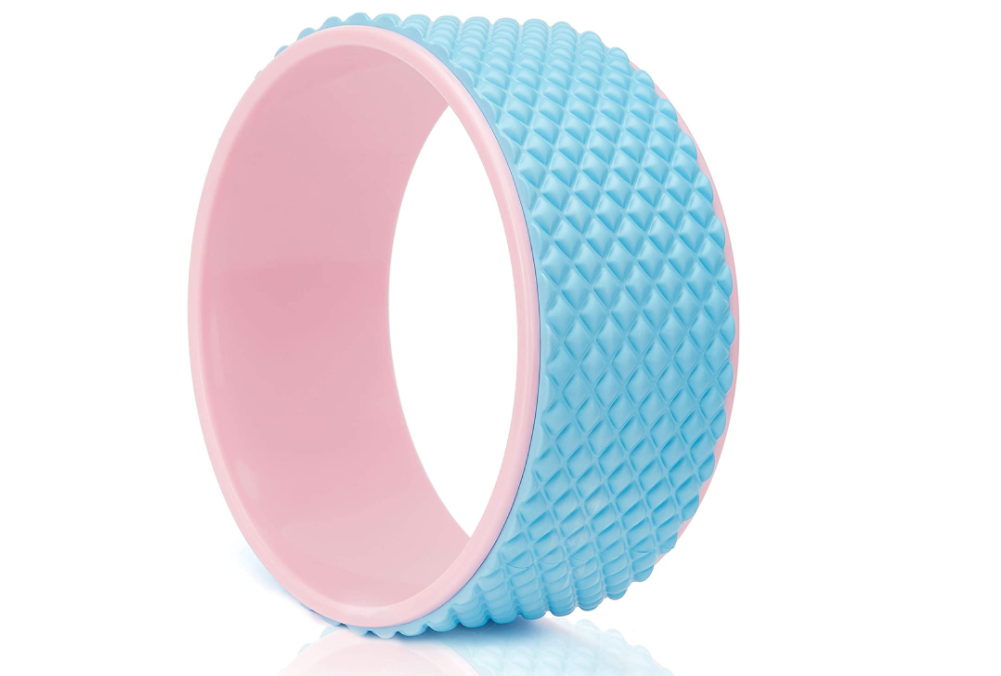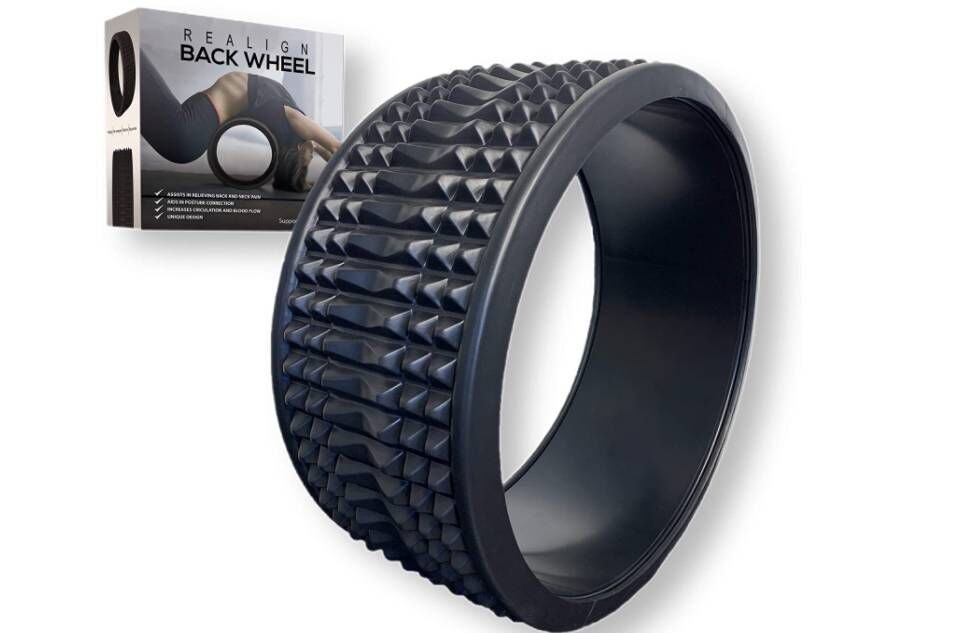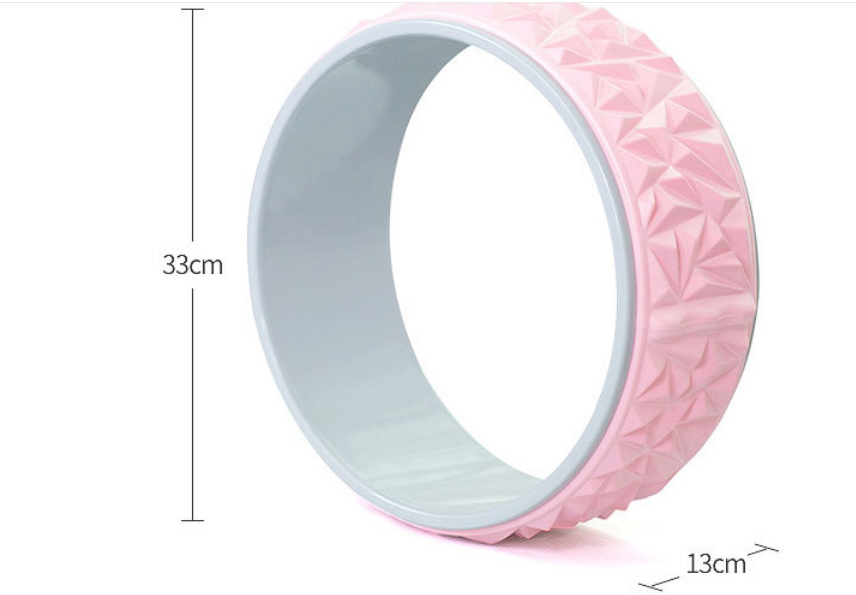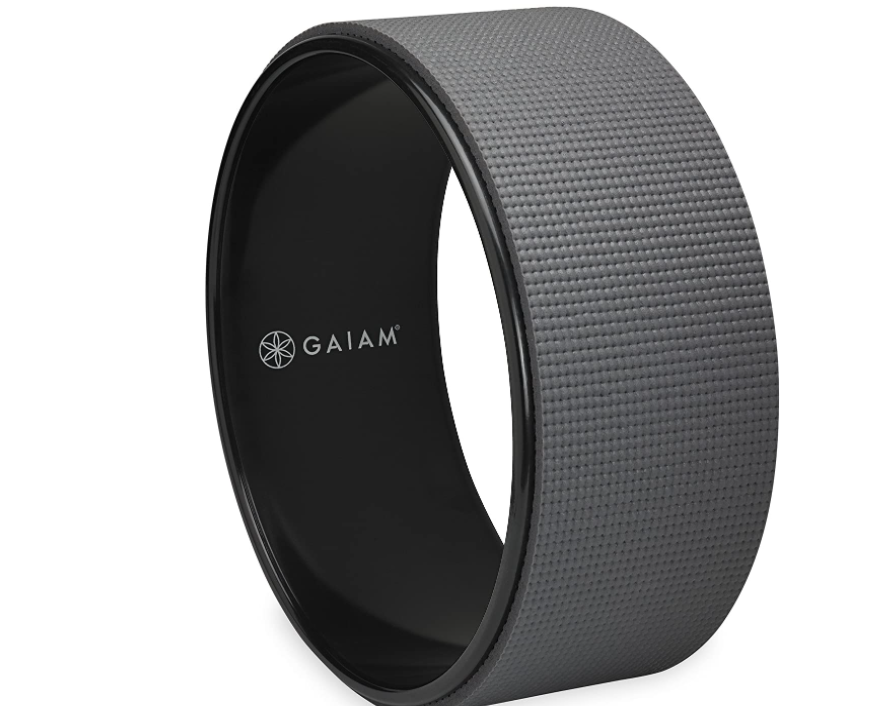 Style 6: abs tpe eva yoga wheel /small yoga wheel /trigger point yoga wheel
This yoga wheel is eva foam + abs /pp tube ,the special is its eva texture –full of dots and its size is smaller ,11.5inch x7.5inch , Yoga Wheel with a Spine Gap and Therapeutic Bump Pattern .

The Spine Gap allows the spine to move freely as you roll, unlike other flat rollers that jam your spine!, built strong from tough EVA molded foam and can support 1000lbs! So everyone can use it and it won't break down!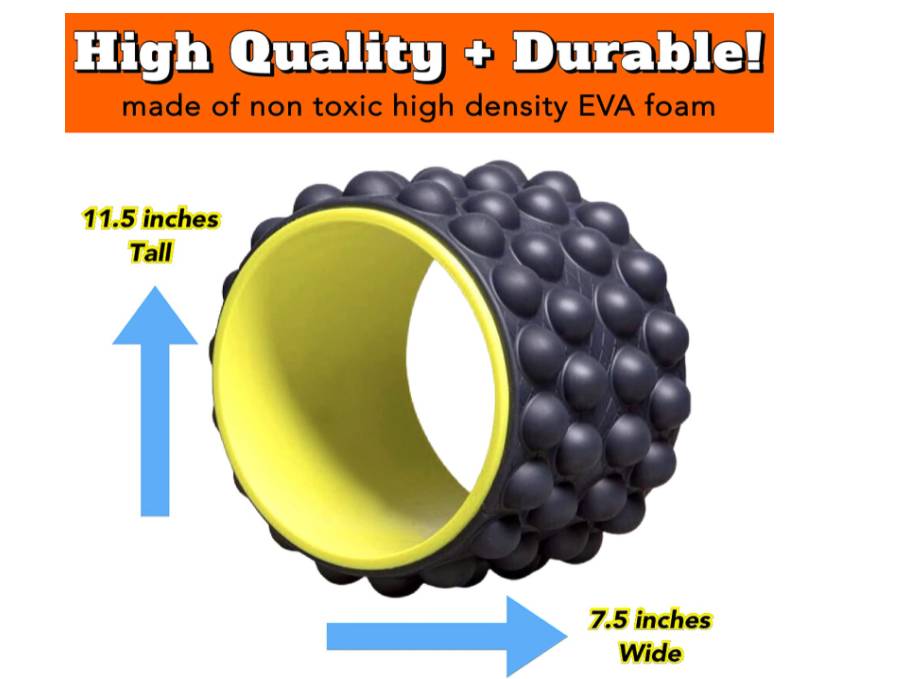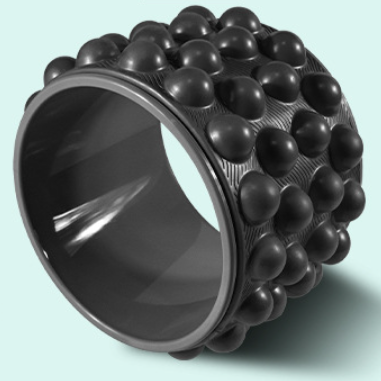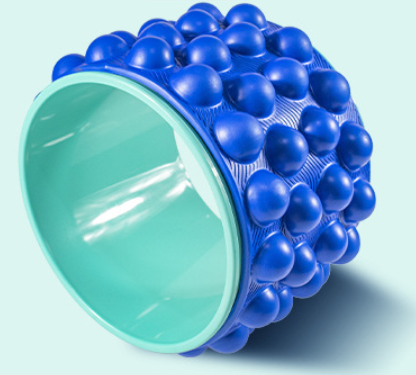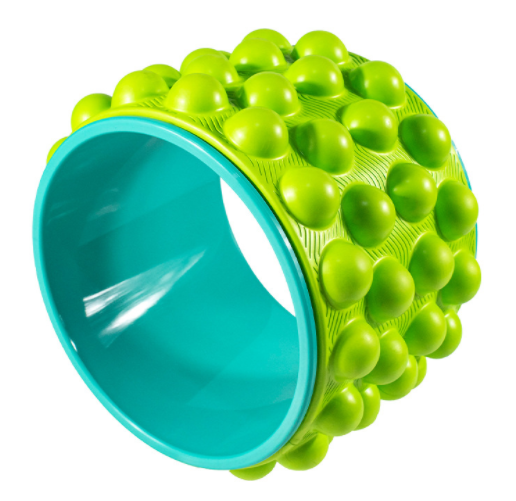 And these days ,most people will prefer to sell the yoga wheel as a set ,below is some yoga wheel set for your ref. which will add value of yoga wheel and can also insert the small accessories such as yoga block ,yoga strap ,mini loop bands inside the yoga wheel tube to save shipping fee ,
which is best yoga wheel and better for final user yoga wheel workout .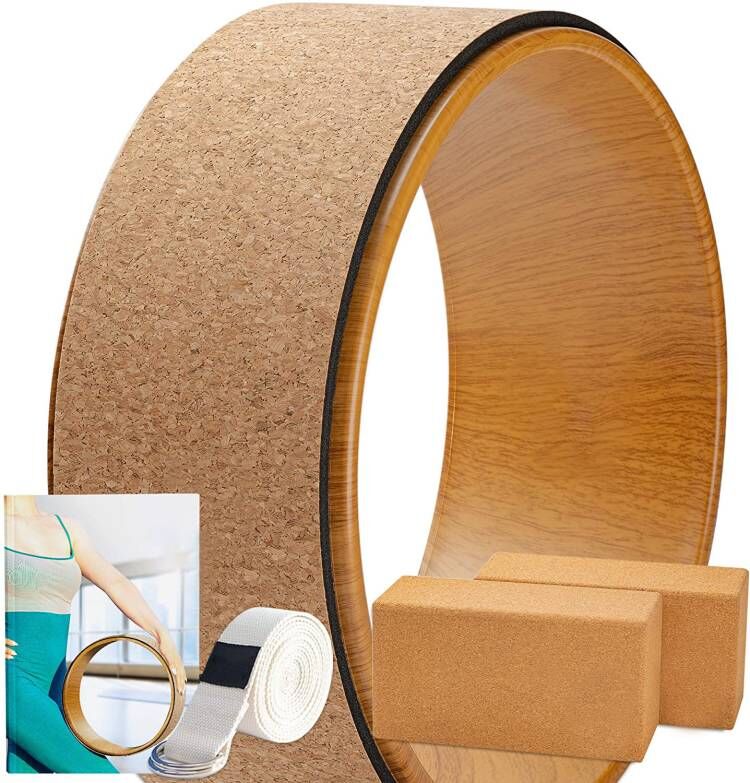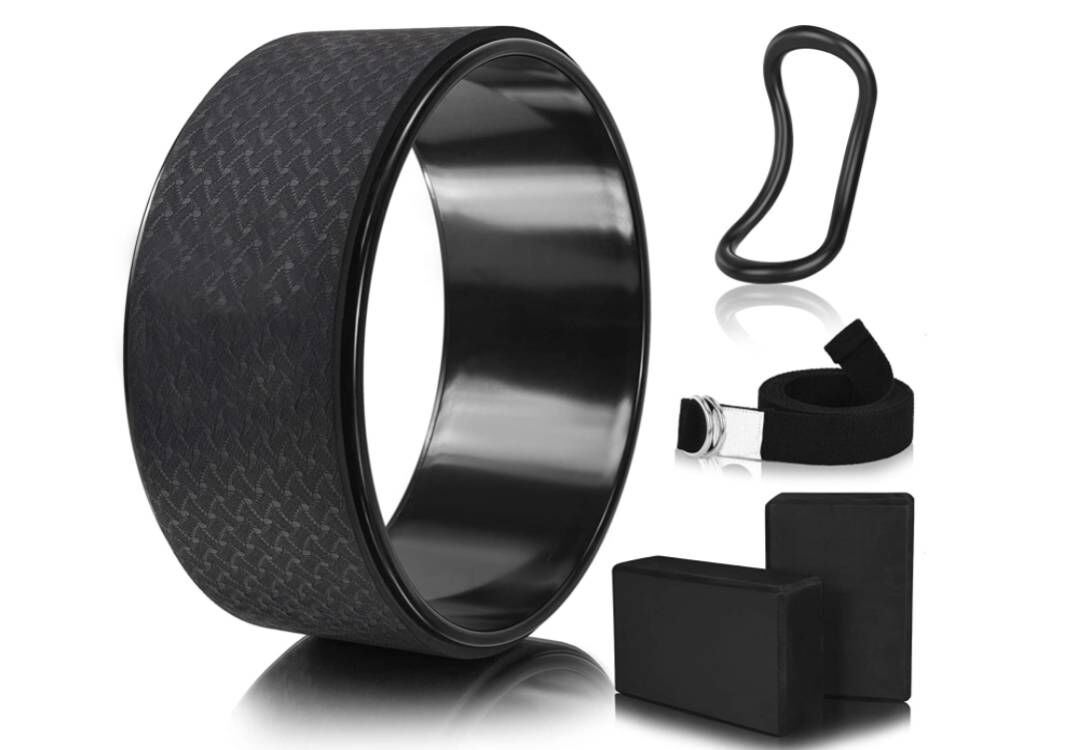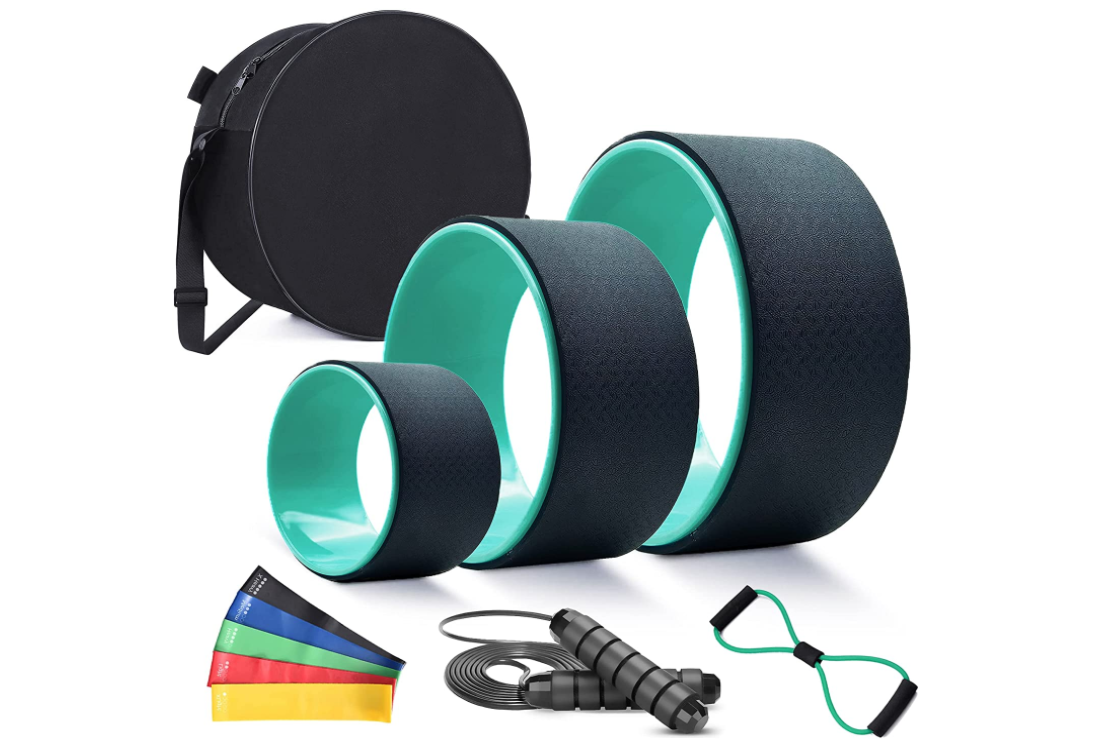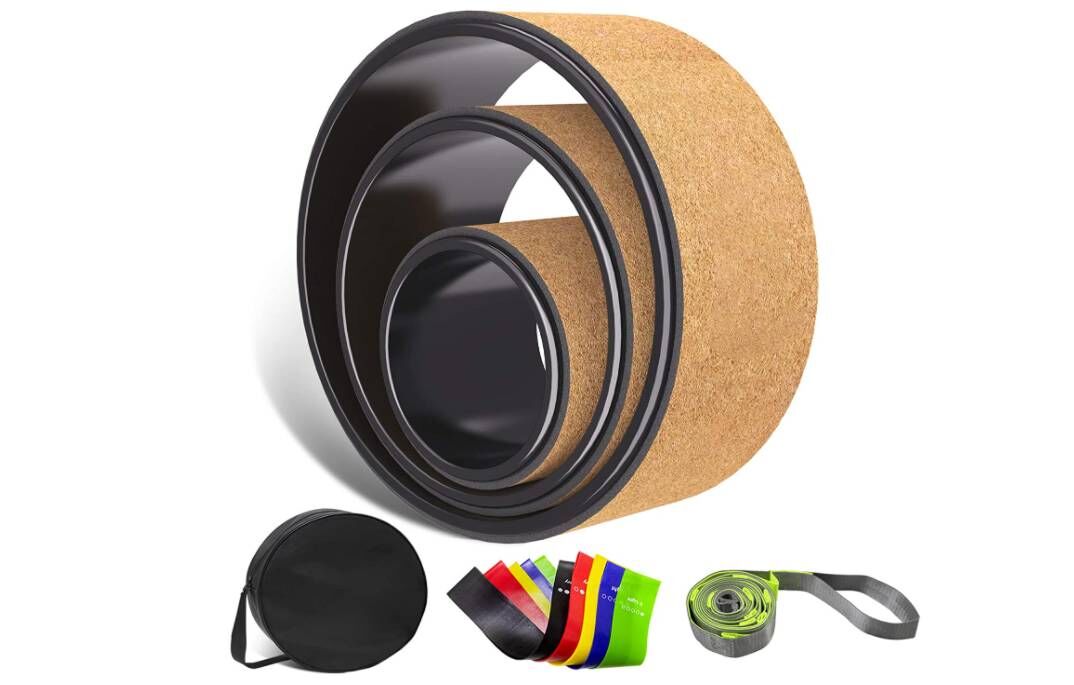 How does the yoga wheel be produced ?
Step 1 : produce yoga wheel tube and tpe or cork foam
Step 2 : put the tpe /eva foam on the
yoga wheel
abs/pp tube
Step 3 :glue the foam to stick with the tube
Step 4 : use hand to touch the foam to make it and tube to stick with each other tighly
Step 5 :stock for 1 day
Step 6 :Pacakge them into box or carrybag .
Hope below video can help you to understand the production procedure.
What is the yoga wheel good for ?
Firstly : good for back massage, better balance, more flexibility and core strength and can reduce stress and anxiety
Secondly : ou can use the yoga wheel for learning forearm stands, building your core, and even for challenging your meditation practice., From larger core exercises to small pin point pressure relief.
Lastly : If you have been plagued by back pain & neck pain, this product will greatly improve your conditions.
Yoga wheels
not only help roll out your back and neck, relax and release all stress but also relieve the tendon tension that runs down the leg due to the back pain.
As we know yoga wheel have many
Since yoga wheel back roller has so many benefits ,so it is necessary for us to do yoga wheel exercise ,so
how to use yoga wheel
?
Below is the yoga wheel exercise video hope it can help .
So How big of a yoga wheel do I need?
Generally speaking 13 inch yoga wheel are more popular and fit for more people ,and but if you are less than 5 feet ,maybe mini yoga wheel/small yoga wheel which is 10.5 inch and 6.5 inch will also be a good choice.
Are yoga wheels for beginners?
If you are a beginners ,yoga wheel also fit you ,you can do some easy exercise similar like below
Simple yoga wheel exercise
Do yoga wheels work for back pain?
The answer is yes ,from doing different yoga wheel exercise ,our back and neck can be relax and massaged
,
Yoga wheels not only help roll out your back and neck, relax and release all stress but also relieve the tendon tension
And below is our yoga wheel weight limitation video ,if people is within 400kg ,our
yoga wheel
is safe to use ,from video we can see it is very durable ,it is a test of our abs tube yoga wheel .
If you like our news ,pls click below to subscribe us to get more of our new news and new products updating
//www.chinahappyfitness.com/index.php?r=member/index&language_id=2
Welcome to contact us :
Mailbox :
eva@tigerfitness.net.cn
What's app +86 18521798650
Contact number +86 18521798650
Skype :freegirl198811